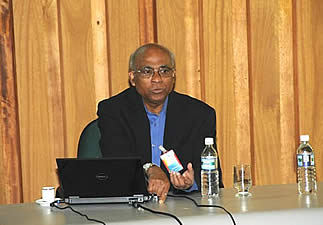 O Cepel sediou, no dia 14 de junho, o seminário "State of the Art Computational Methods and Software for Computer-Aided Control Systems Design and Analysis", proferido pelo pesquisador Biswa Nath Datta, professor da Northern Illinois University, Estados Unidos.
Autor de dois livros especializados, "Numerical Linear Algebra and Applications" e "Numerical Methods for Linear Control Systems", Biswa Datta é fellow do Instituto dos Engenheiros Elétricos e Eletrônicos (IEEE) e foi agraciado com o Senior Fulbright Specialist Award. O pesquisador é um dos mais respeitados especialistas na área de Algebra Linear Computacional aplicada à análise e projeto de sistemas de controle, inclusive em controle ativo de vibrações em estruturas flexíveis.
O seminário foi promovido pelo Cepel, com apoio da Seção Rio de Janeiro do IEEE e do Comitê Nacional Brasileiro de Produção e Transmissão de Energia Elétrica (Cigré-Brasil).